Altered, Boy!
Speaking of adapting art to suit commodity models inherent in the gallery structure, Carlo Zanni as created Alterboy, essentially a white cube to house (and limit access to) web based works.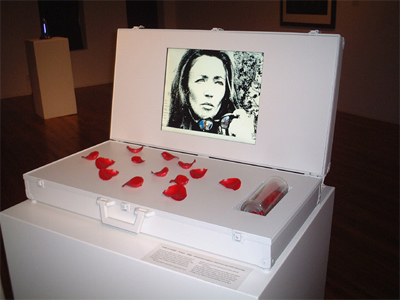 The Altarboy Oriana shown at Chelsea Museum in the show Passage of Mirage curated by Christiane Paul and Zhang Ga in the fall of 2004.

While many digital works can be stored and loaded from a CD or DVD, Net works need to stay online. So basically many issues and questions rise from that status the first one being: how can I own something that needs to stay public to 'exist'?... I wanted to find a neutral and very customable model, something characterized by a 'primordial asset'. So I came up with the idea to sell a server directly, a small personal server. In this way it is up to the collector to decide when and where to put the work online, allowing the network to start again and viewers to visit/interact with it.
While Zanni states that this new acquisition tool doesn't alter the nature of the work, I disagree. Altarboy changes the work by taking it out of the public realm. These new (anti)Net works can now be sequestered in the collection vaults of galleries and the homes of the wealthy at the expense of artistic information sharing.

It's true that net artists don't have to sell their works to collectors but, as this proprietorship idea advances, prices for the work may well go up and who doesn't want to make money?

Can you imagine? Websites sans web, housed in privately owned repositories, presided over by Art Monks.