Making Tools For Making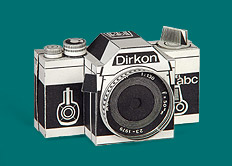 I like this paper pinhole camera that mimics the look of a more solid model. The instructions can be found here and include a PDF file with the pattern. Print it out, cut it out, fold and glue. It hold rolls of 35mm film. B&W and colour!

I want to find a wood worker who will build me this 4X5 film camera:




Here's a 4X5 out of foam core:




If you are interested in exploring making your own pinhole cameras, you may want the PinholeCalc - a free Mac program for figuring out things like f-stop, focal length, pinhole diameter, etc, based on film speed.

And now, my favorite:

I'm a bit of a purist and so, when I came across the website of Thomas Hudson and saw his wonderful concept, I was smitten. Hudson's pinhole cameras are made from the photo paper itself. Hudson constructs the cameras in total darkness. After he has taken his picture, he goes back into the dark and pours chemicals directly into the camera to develop it. Once developed, the camera is unfolded and becomes the image. Beautiful. Go See.